<!light blue>

<! purple red>
Geoffrey A. Landis
Short Bio
<! slightly darker purple red>
---

"While there's hard science content [in Landis's stories], there's also a rich emotionalism. Lots of science fiction is bright clever ideas. In Geoff's case, the bright clever idea is supported by the emotional life of the story. He writes about science and the scientific world from a humanistic slant."
-- Gardner Dozois
---


Analog Cover by Jack Gaughan for
my first published story, "Elemental"


<! slightly darker purple red>
Geoffrey A. Landis is a scientist and a science-fiction writer.
As a writer, he is the author of eighty published short stories and novelettes, and just under fifty poems. His novel Mars Crossing appeared from Tor Books, and a short story collection Impact Parameter (and other quantum realities) from Golden Gryphon.
In 1990 his story "Ripples in the Dirac Sea" won the Nebula award for best short story; in 1992 his short story "A Walk in the Sun" won the Hugo award. (Now available on audiotape), and in 2003 his short story "Falling Onto Mars" won the Hugo. His novel Mars Crossing won the Locus Award for best first novel of 2000. In 2014, he won the Robert A. Heinlein award "for outstanding published works in science fiction and technical writings to inspire the human exploration of space."
His work has been translated into twenty-one languages, and the Portugese translation of "Ripples in the Dirac Sea" won the Brazilian Reader's Poll award for best short story. His collection Myths, Legends, and True History was published in 1991 by Pulphouse as part of their Author's Choice Monthly series (now, unfortunately, out of print.)


<! darker than wine> Cover by George Barr for
Author's Choice Monthly Collection 26 <! purple red>


Internet Speculative Fiction Database bibliography.
There is a list of awards that my stories have been nominated for, and you can find some reviews that mention my name on the web.
He is a member of the Cajun Sushi Hamsters, also known as the Cleveland Science Fiction Writers Workshop.
He was one of the creators of the anthology/braided-novel Future Boston.
He attended the Clarion writers workshop in 1985. Some of the other writers from his year include Martha Soukup, Mary Turzillo, Kristine Kathryn Rusch, Bill Shunn, and Resa Nelson. In 2001, along with Mary Turzillo, he returned to Clarion as an instructor.

Aside from writing, Dr. Landis is a scientist with the N.A.S.A. John Glenn Research Center. From 2005-2006, he was the Ronald E. McNair-NASA Visiting Professor of Astronautics at M.I.T.. In 2013, he was awarded the AIAA Aerospace Power Systems Award for "developing advanced photovoltaic power systems for extreme space environments; providing leadership, fostering innovation, interfacing with the public; and contributing to an improved scientific understanding of operating solar power devices from the solar corona to the Martian surface and beyond."
He has published 400 scientific papers in the fields of photovoltaics and astronautics, holds eight patents on photovoltaic device designs, has written dozens of articles about model rocket technology and edited several MIT Rocket Society reports. He's written more technical reports that he really wants to think about, and organized and served as the technical chairman of the Vision-21 symposium (cover art). He has flown the human-powered airplane "Chrysalis" and helped build both Chrysalis and also the prize-winning Monarch airplanes. He was involved in a project called SpaceCub to design a personal rocket for the hobby flyer. He was a regular participant in the Science Fiction Age "Science Forum", and has written 12 popular science articles, including "The Demon Under Hawaii," Analog, July 1992, winner of the AnLab reader's award for best science article. He has undergraduate degrees in physics and electrical engineering from MIT and received his PhD in solid-state physics from Brown University.
He has worked on a number of space missions. Some of the more notable of these include:

He was a member of the Sojourner Rover team on the successful Mars Pathfinder mission in 1997
and member of the science team on the long-lived Mars Exploration Rovers Mission, "Spirit" and "Opportunity".
He worked on a project called MIP that was intended to demonstrate manufacture of rocket propellant on the surface of Mars, as an experiment package that was scheduled to fly on the Mars 2001 Surveyor lander mission (the project was cancelled following the failure of the 1998 Mars spacecraft).
Other missions that he is working on include missions to the surface and atmosphere of Venus
and a mission called Parker Solar Probe that is send flying a spacecraft making exceptional close approaches to the surface of the sun.

As technical chairman of the Vision-21 symposium and editor of the proceedings, he published Vernor Vinge's article on The Technological Singularity

When I was a child, the first book I remember owning was a children's book about space You Will Go To The Moon. At the time-- I think I was four-- I didn't realize how unusual a second-person narrative was! Looking at the cover, I see that it featured a red-haired boy looking through a telescope -- that's probably why my parents bought it for me.
<! darker purple red, almost wine color>
The boring biographical details
Geoffrey Landis was actually born in Detroit, Michigan. He left Detroit at age six months, and moved to Arlington, Virginia; Baltimore, Maryland; Western Springs, Illinois; Morristown, NJ; Center Valley, PA; and Winnetka, Illinois while growing up. After going to college at MIT and graduating with degrees in Physics and Electrical Engineering, he worked in the Boston area for five years. He then moved to Providence, Rhode Island to attend graduate school at Brown University.
After receiving his Ph.D. in physics, Dr. Landis worked as a postdoctoral researcher at the NASA Lewis Research Center (now renamed NASA Glenn), then worked as a NASA contractor, and finally as senior scientist at the Ohio Aerospace Institute, before accepting his current job as a civil-service scientist in the Photovoltaic and Electrochemical Systems Branch Branch at NASA Glenn Research Center in Cleveland, where he works on Mars exploration with the Mars Exploration Rovers, and on developing advanced technology for future space missions. In 2005 and 2006, he was the Rodney E. McNair Visiting Professor of Astronautics at MIT. He is a NASA Innovative Advanced Concepts fellow, working on projects involving interstellar flight, landsailing missions to Venus, and missions to Triton and Titan
He currently lives Berea, Ohio with cats named Samurai and Scaramouche, several teddy-bears, more books than you can count in a year, and no goldfish.
He is married to science fiction writer Mary A. Turzillo.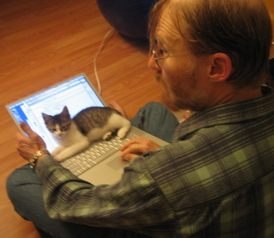 Sam helped me with my writing by keeping the keyboard warm!
---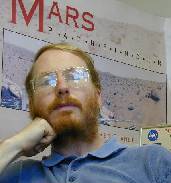 photo of me in my office at NASA
---
Interviews
If you are interested in some of my opinions and thoughts about writing, read the
Reviews
Picture
---
---
for mathematicians: My Erdös Number is 5.
---
Page by Geoffrey A. Landis, copyright 1996, 2005