An Electronic One-Man Show by Geoffrey A. Landis
Before I got serious about writing science fiction, one of my hobbies used to be painting and drawing. I pretty much quit in 1982, for no particular reason except that over the years pretty much all of my artist friends had drifted away elsewhere. That was right around the time I started writing, anyway. If I can find a slide-scanner around, I may upload some of my paintings, but until then, here is a sampling of some sketches.
Click on the picture to see a JPEG image. Stay tuned.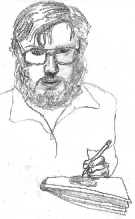 A self-portrait in pencil from the late 70's.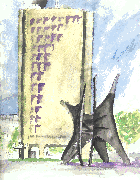 A watercolor sketch of the MIT campus, with the Calder "Great Sail" sculpture at the bottom, and Building 52 (the Green building) behind it (note the radar dome on the top!). I'm afraid the colors came out a little off when I scanned this one, but I don't have the time to mess around with settings--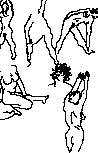 A page out of one of my sketchbooks, with pen and ink life drawings. These were from a series of one-minute "warm-up" sketches. When I first got a mac, in 1984, I messed around with MacPaint a lot. This imaginary view of a starship in front of a galaxy is one of the paintings I did. Seems pretty crude by current standards of computer-assisted art, doesn't it! I used this graphic on the cover of the first "Vision-21" symposium volume. Another of my early MacPaint drawings graces the bottom of my homepage.

---
Page and artwork by Geoffrey A. Landis, 1996.
A thousand thanks to Astrid Julian for use of her scanner and Photoshop!
---
---
Back to Landis home page.